From crystal clear waters to a unique, exciting harbor, Destin has a lot to offer couples looking for unrivaled romantic getaways in Florida. Read on and check out our list of seven romantic things to do in Destin Florida for couples.
1) Take A Luxurious Boat Tour From Destin Harbor To Explore The Gulf
A tour we think you'll love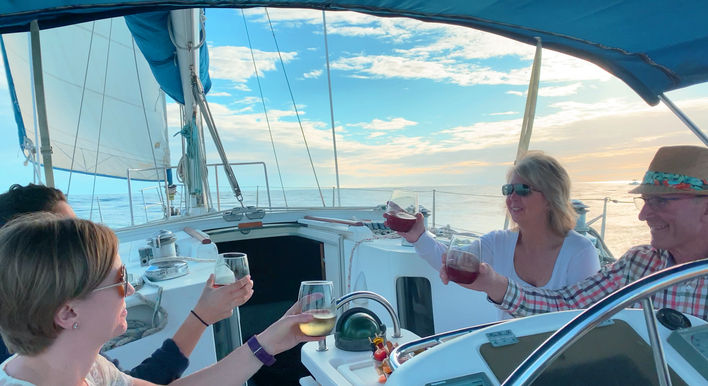 Champagne Brunch Cruise
From $445
View tour
Boat tours offer a stunning way to spend as much quality time with your significant other as possible. At East Pass Sailing, we offer a wide range of charters to allow you to feel the gulf breeze and explore the emerald coast in a way never seen before. Our charters include:
We are a dedicated sailing charter company that offers couples unparalleled romantic getaways to make sure every moment is memorable. Therefore, whether you want to relax on the top deck with a glass of champagne or are in the mood to enjoy the unique emerald-green waters, East Pass Sailing is for you. Contact us today to know more about our charters!
2) Go On A Sunset Cruise
While there are so many things to do in Destin, FL for couples, one you should never miss is a sunset cruise. This romantic activity is particularly worth it if you love a dinner cruise; it comes with a whole lot of fun, and the food is always amazing.
Besides, sunset cruises give you a chance to wander around the ship before and after dinner, plus some even feature an open bar where you can grab your favorite drink and enjoy it on the deck. Most of these cruises also have DJs who play good music to make the adventure as unforgettable as possible.
3) Enjoy A Staycation At The Henderson Park Inn
Henderson Park Inn is a great place to go with your spouse since it offers more fun than imagined. It has an adults-only bed and offers breakfast on the beach to take your romance to soaring heights. This place also boasts several large rooms overlooking the Gulf of Mexico.
There are stunning cafes where you can enjoy a romantic dinner under the moonlight. Additionally, most of these cafes offer several amenities, which include:
Beach chairs, towels, and umbrellas

Fire pits to keep you warm

Bicycles to make your romantic getaway fun

Picnic-style box lunches for an incredibly unique experience
4) Have A Romantic Dinner In One Of Destin's Romantic Restaurants
A romance-themed dinner is one of the first things that spring to your mind when someone talks of the things to do in Destin for couples. While dinner filled with romance can be enjoyed virtually anywhere, things are a whole lot different in Destin, FL, and that is because of the many romantic restaurants in this place.
Some of these restaurants are situated right next to the beach to offer a dining experience like no other. Best of all, the waiters and waitresses in these restaurants are professional and always willing to go the extra mile to make your romantic date nights special.
5) Get A Couples Massage
Another activity you should include on your list of things to do in Destin for couples is a massage. A massage offers a nice way to relax and burn off stress after an exhausting yet fun day at the beach or harbor. While a simple solo massage is good, a couples massage is better since it paves the way for a wonderful adventure together.
Destin has lots of massage and spa parlors that will leave you spoilt for choice. Having said that, you can enjoy classic massage and spa at Henderson, where various spa and massage establishments offer exquisite spa services to keep your mind and body in high spirits. The packages and treatments you are likely to find in these massage establishments include:
Hot stone treatment

Swedish massage

Deep tissue massage
6) Go For Moonlit Walks Along The Beach
While moon beach walks may be a bit of a cliché, it is still one of the most amazing things to do in Destin for couples. Moonlight walks on a Destin beach are on an entirely different level because of the pillowy-white sand that feels beyond incredible under your feet.
But how do you know that the moon is over the water and now it is time to take your special person to the beach? It is simple since all you need to do is download an app that lets you inspect astrological formations in real-time. In so doing, the app ensures you know exactly when and where the moon will appear.
7) Hike At Henderson Beach State Park Nature Trail
If you are a couple who loves to hike, hitting the trail at Henderson Beach State Park may just be the perfect romantic getaway. This three-quarter-mile trail will not leave you super exhausted; instead, it will leave you rejuvenated and in the mood for more since it has a lot to offer.
It meanders through coastal scrub oak and sand dunes to provide you with as much adventure as possible. You will come across a high dune developed around the remnants of a bunker, which was built several years ago when the military relied on the area to carry out different training programs.
Capture Unforgettable Memories On A Sunset Cruise
One of the best Destin activities for couples who enjoy romantic getaways is a stunning sunset sail! Hire a sailboat charter for a second-to-none experience at the emerald coast.
At East Pass Sailing, we know exactly what will improve your romance. Therefore, visit our website today to book your ideal Destin boat tour!