The best beaches in Destin, Florida have unique features that attract several people, especially during summer. They also have different activities that you can indulge in for a quality time out. Therefore, whether you are in the mood to enjoy a good meal or want to relax on one of the beach chairs available, these beaches are for you.
Beaches near Destin have plenty to offer, including allowing you to go on a boat tour by East Pass Sailing. Equipped with the Space Dancer, a luxurious 45 ft. sailing yacht, East Pass Sailing promises an extraordinary experience that will see you explore the emerald coast to the fullest.
A tour we think you'll love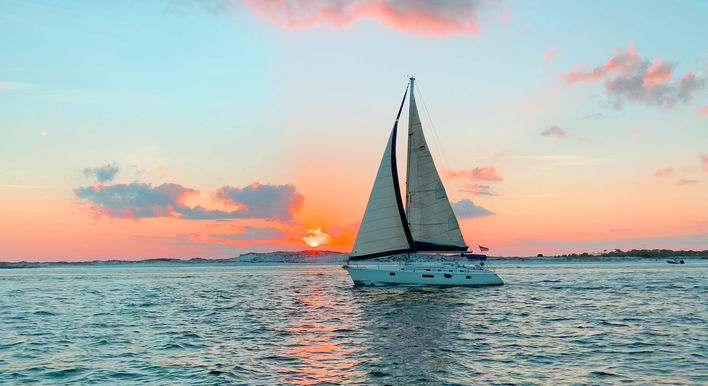 3 Hour Sunset Sail
From $597
View tour
Contact us today and get ready for lifelong memories as you sail the waters around Destin!
1) Henderson Beach State Park
If you find the emerald green water enticing, Henderson Beach State Park should be a frontier for you. It is one of the best beaches in Destin Florida because of its location and the stunning activities it offers. A drive to Henderson Beach State Park is relatively short since all you need to do is pass between Okaloosa Island and Harbor Walk.
Once there, you will be greeted by wonderful white sand and stunning sand dunes found on the boardwalk. As mentioned earlier, Henderson Beach State Park has plenty of activities for its visitors, and these include:
Hiking on a three-quarter-mile trail

Exploring the unique 30-foot-high sand dunes

Interacting with native wildlife, including dolphins and sea turtles
Moreover, the park boasts six large pavilions, which, in return, have barbecue grills, water, picnic tables, and restrooms. You can take advantage of these amenities to pack a picnic that everyone will live to remember.
2) Miramar Beach
It is almost impossible to talk about the best beaches in Destin without mentioning Miramar Beach. The outstanding elevated walkway is one of the reasons why this beach is highly preferred by people from the Florida Panhandle region. Others have also cited the white sand as their reason for falling in love with the beach.
It is worth noting that Miramar Beach has large condo towers nearby for accommodation while enjoying its activities to the fullest. There are also wonderful yet affordable accommodation options a bit farther back that you can call home during your time on the beach. Like the first beach on this list, Miramar Beach has several activities for its visitors, and they include:
Relaxing on rental loungers after a fun time in the water

Going for jet ski rentals to stay more active on the beach

Signing up for parasailing to have a bird's-eye view of the stunning emerald coast
3) James Lee Beach
Situated in James Lee Park, James Lee Beach is one of the most breathtaking beaches near Destin Florida. It is the ideal beach for someone looking to avoid the hustle and bustle of the crowd. It is also perfect for family outings since it has a well-equipped playground set back from the ocean.
The beach also has several public beach access points, including countless parking spots and a boardwalk near the aforementioned kids' playground. Also known as Crab Trap Beach, James Lee Beach is near the popular Crab Trap restaurant that offers insanely delicious dishes for hungry beachgoers.
In a nutshell, the activities on this beach include:
Visiting one of the three pavilions to take a relaxing shower after memorable moments in the water

Packing your own lunch to enjoy it on one of the picnic tables available in the aforesaid three pavilions

Watching kids enjoy themselves to the fullest on the playground

Enjoying a mouth-watering meal at Crab Trap restaurant
4) Blue Mountain Beach
The best beaches have lots of amazing natural features and offer innumerable spots for relaxing. Blue Mountain Beach is one of these great beaches since it has natural features that have come together to push the land near it up to 65 ft. in the air.
This means when you come to Blue Mountain Beach, you will not walk up and over dunes like you would in most pristine beaches near Destin, FL. Instead, you will walk down a set of stairs to access the water. The set of stairs is relatively long; therefore, ensure you plan accordingly by leaving the heavy belongings at home.
Aside from that, this beach is wonderful and has plenty to offer, including:
Taking a picture next to the blue lupine flowers that bloom on the hillside

Dipping your toe in the clear, warm water

Watching people while they go about their business
5) Crab Island
During summer, the best beaches in Destin attract hundreds of tourists every day, and Crab Island is one of them since it is a hotspot destination for countless activities. It is a shallow water paradise measuring 2 – 3 ft. deep, depending on the tides.
Needless to say, Crab Island is perfect for the following activities:
Wading and swimming

Enjoying pizzas, hot dogs, and hamburgers after having a good time in the water

Listening to music, socializing, and taking part in water games

Taking a ride in a rental canoe, kayak, or shuttle
6) Navarre Beach
Not everyone likes the crowd, and that is where Navarre Beach comes in handy. Featuring the Navarre Beach Pier, this beach is no doubt one of the best beaches around. The activities here range from going on picnics to strolling along the massive pier. Navarre Beach also boasts soft sand shores where you can lie as you watch the sunset.
7) Other Beaches Near Destin
There is plenty to do on these pristine beaches, including watching the Destin harbor and soaking in the sun. Besides, some of them are near Okaloosa Island, which makes them great for someone looking for an endless adventure.
Crystal Sands Beach is worth mentioning too because of the popular Crystal Beach Dr. and the relatively low-key beach scene. The sugar-soft sand makes Destin and Crystal Beach the perfect place for beach walkers or someone looking to relax while enjoying the cool breeze the beach has to offer.
Other stunning beaches near Destin worth visiting:
Holiday Isle

Eglin Beach Park

John Beasley Park

Princess Beach
The Best Beaches Near Destin, Florida
From Crystal Sands Beach featuring the popular Crystal Beach Dr. to Crab Island, where hundreds gather to socialize, enjoy music, and have fun to the maximum, this post has everything you need to know about Destin's best beaches.
Ideally, if you are looking for an even better experience, East Pass Sailing Company is for you, thanks to our one-of-a-kind boat tours and sunset cruises. You'll have an amazing time with any of our tours. Visit our website and book your tour today!